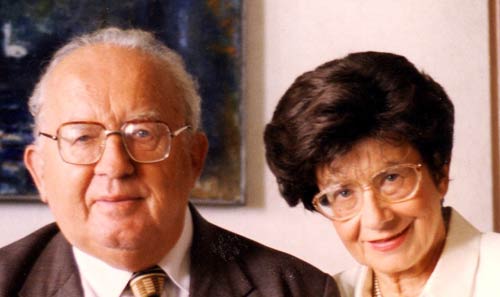 ABOUT: Viktor & Zuzana; Our Mission; the Board.
Viktor and Zuzana formed a remarkable partnership at the heart of Czech music for more than 50 years. They refused to join the Communist Party and faced endless adversities, yet they achieved enormous international success.
Viktor's music, inspired in particular by such composers as Martinu, Hindemith, Stravinsky, Honegger and Bartok, has been widely performed and recorded. Zuzana's virtuoso skills on the harpsichord – most notably her interpretations of Bach – have brought her honors and acclaim. Her more than 65 recorded albums and thousands of public performances have thrilled audiences across the world.
Read more about Viktor and Zuzana >>
And, see our GALLERY of photographs >>.
Also, see Fanfare magazine, January/February 2014 under Reviews
Our Mission
To develop, promote knowledge of, and sponsor the music and life's work of Viktor Kalabis and Zuzana Ruzickova through events such as concerts, festivals, exhibitions, competitions, master classes and other educational events by the use of such media as radio, television, film, recordings, publications and electronic technology including the internet, and hiring such performing and creative artists, consultants, and administrative staff as might be required to operate and maintain the organization and its goals. The foundation is also dedicated to educating young people about the lives of Kalabis and Ruzickova, the oppression they faced and endured; the dignity with which they led their lives despite the constant surveillance imposed by the Communist Government officials from 1948 to 1990 in their native Czechoslovakia – the denial of their university doctorates, the denial of their ability to teach Czech students, the denial of the ability to travel together and myriad other impositions all because they refused to join the Communist Party.
Board of Directors
Chair of the Board and President: 
Emily Vogl
Vice President:
Sachi Liebergesell
Secretary & Treasurer:
Frank Vogl
Board Members:
John Solum
Michael Beckerman
Ales Brezina
Judith Fiehler
Mark Kroll
Artistic Advisors: Hannah Arie-Geifman, Mahan Esfahani.
Directed and Produced by Peter Getzels and Harriet Gordon Getzels and edited by Catherine Shields. Senior Advisors and Executive Producers Emily Vogl and Frank Vogl; Executive Producer William R. Rhodes. Special Advisor in Prague Ales Brezina. Produced in cooperation with Czech TV.