For full information about the film Zuzana: Music Is Life please click here- FILM
Victor Kalabis, Piano Concerto No. 1
Concerto for piano and orchestra No. 1, Op. 12, 20′, Schott (1953-4)
This work was Kalabis's wedding gift to his wife and also inspired by the Mozart jubilee. Zuzana Ruzickova played it many times, recorded it with the Czech Philharmonic Orchestra under Karel Sejna but many other pianists played it, for example in Durban, Reykjavik, Romania, Germany, Havana, Birmingham, Minsk and Moscow, where it was recorded by the Radio Orchestra under Rozhdestvensky.
Recordings:   Zuzana Ruzickova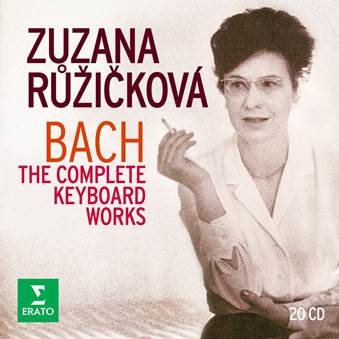 Bach: The Complete Keyboard Work
Release date: 21st October, 2016
20 CD box set 0190295930448
Zuzana Růžičková's Bach recordings were made for Erato between 1965 and 1975. In late 2016, just ahead of her 90th birthday, Erato/Warner Records released a remastered complete 20-CD box set. Zuzana  was the first person in the world to record the complete works of Johann Sebastian Bach. ​N​ow available on Amazon ​   See BBC Review 
and Available now via Warner Music
---

Suphraphon, celebrating the "First Lady of the Harpsichord", has released two new double sets of CDs.
Hommage a Zuzana Ruzickova / Bach, Scarlatti, de Falla, Kalabis, Poulenc, Rychlik, Martinu
Harpsichord Music from England, Spain and Portugal / Zuzana Ruzickova
Viktor's " Aquarelles "–  performed in New York in March, 2017 by Mahan Esfahani – here is the original recording by Zuzana: (It can be ordered from Nibiru Publishers in Prague)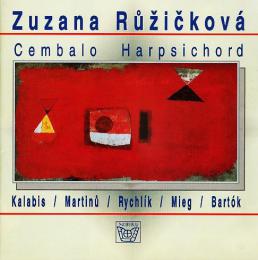 ---
---
Kalabis – Music for Clarinet and Horn from Symphony Hall, Boston.

Zuzana Rizickova writes: "Viktor Kalabis's love of wind instruments began when he was 15 years old. Already a performing pianist, he taught himself to play the saxophone and clarinet, his favorite wind instrument."
"When he visited Boston, Viktor was enchanted by the orchestra and also by Symphony Hall, its acoustics and form. 'Would that a work of mine could be played here,' I remember him wistfully sighing. So, special heartfelt thanks to Mark Ludwig and the wonderful performers of the Boston Symphony Orchestra (Tom Martin and Richard Sebring) for their great efforts in making this very special recording in Symphony Hall, thus fulfilling Viktor's wish, albeit, alas, posthumously!"
Featured recording
Review posted by Phil Muse in Symphony, chamber music, MSR
Czech composer Viktor Kalabis (1923-2006) was an unknown name to me when this 3-CD jewel box arrived in the mail. As I began scanning the Internet for basic research in writing this review, I was astonished to find that only two Kalabis works were listed on Arkivmusic.com, both buried in recordings of works by other composers. Read more >>
---
Gerhard Vielhaber
Label: ClassicClips
César Franck: Prélude, Choral & Fugue
Viktor Kalabis: Akcenty op. 26
Robert Schumann: Fantasie op. 17
Learn more about this artist >>
---
Moving Clarinet
Viktor Kalabis took enormous joy in the clarinet and this comes through beautifully in this new CD from Premiere Music.
Irvin Venyš – clarinet
Martin Kasík – piano
Pieces by Josef Páleníček, Bohuslav Martinů, Miloslav Ištvan, Karel Husa and Viktor Kalabis.
---
Praga Digitals – The String Quartets
First complete recording on CD of the String Quartets
KOCIAN QUARTET Pavel HŮLA, Miloš ČERNÝ, violins/Violinen/violons, Zbyněk PAĎOUREK, viola/Bratsche/alto Václav BERNÁŠEK, cello/Violoncello/violoncelle
STRING QUARTET No. 1, Op. 6 (1949)
STRING QUARTET No. 2, Op. 19 (1962), STRING QUARTET No. 3, Op. 48 (1977)
ZEMLINSKY QUARTET František SOUČEK, Petr STŘĺŽEK, violins/Violinen/violons Petr HOLMAN, viola/Bratsche/alto – Vladimír FORTIN, cello/Violoncello/violoncelle
1 STRING QUARTET No. 4, Op. 62 (1983-4) "Tribute to J.S.Bach", in one movement; STRING QUARTET No. 5, Op. 63 (1984), "In memory of Marc Chagall'; STRING QUARTET No. 6, Op. 68 (1987-8), in memory of Bohuslav Martinů ; STRING QUARTET No. 7, Op. 76 (1993), in one movement
Learn more about this recording >>
---
Tristium – Concert Phantasy for viola and strings (1981)
Viktor Kalabis (1923-2006)
Jitka Hosprová, viola
Prague Chamber Orchestra/Antonín Hradil
Kalabis was Lukášs teacher so its fitting that we have Tristium, his twelve-minute tribute strongly modelled on Hindemiths Trauermusik. It owes its genesis to the illness and death of a friend and alternatives tempi and emotive conditions strongly mirroring the feelings of hope and resignation despair and faith as the composer notes them experienced by the patient, Dr.Z.F. This gripping and melancholy work was first performed by Lubomír Malý with the Slovak Chamber Orchestra conducted by Bohdan Warchal in 1986. Kalabis died after the booklet was printed, fittingly perhaps on the Feast Day of St. Wenceslas. We salute the memory of a brave, steadfast and noble man. – Jonathan Woolf
Listen to the work in two parts:
http://www.youtube.com/watch?feature=player_embedded&v=wXo4TV9Ch18
http://www.youtube.com/watch?v=VAR6tOnEo7E
---
Czech Music Direct Podcast
Slide-Show version of the Czech Music Direct Podcast. This edition introduces American label MSR Classics and features their 3 disc set of music by Czech composer Viktor Kalabis, and highlights Windscape in Dvorak.
For full information about the film Zuzana: Music Is Life please click here- FILM