MUSICWEB – recording of the month —
SUPRAPHON SU4210-2 [65:51]
Both Viktor Kalabis' Cello and Clarinet sonatas were written in the shadow of the Soviet invasion of Czechoslovakia. Both are marked by it and display a brooding, sometimes almost obsessive quality wholly understandable given Kalabis' own feelings of helplessness and protest.
The Cello Sonata was finished the month after the August 1968 invasion and reveals a strenuous intensity occasionally leavened by refined, elegant paragraphs; moments of reprieve amidst the shadows. The slow movement most intensely bears the obsessive elements noted above, a product of rhythmic insistence not unlike Prokofiev's, allied to an intensely introspective tolling motif. As with his slightly later Clarinet sonata the finale is longer than the first two movements put together. Here one finds a long, expressive lament contextualised into taut driving rhythms. The sonata ends with unresolved tension, quietly. Read the full review.
On this page a range of performances of works by Viktor Kalabis from across the world and special events:
Mahan Esfahani, Zuzana's last student, in recital in Prague in November 2018, at the The Bohuslav Martinů Institute (Bohuslav Martinů Foundation director Ales Brezina, a member of the Viktor Kalabis and Zuzana Ruzickova Foundation) where he performed pieces by Bohuslav Martinů, J.S. Bach and Viktor Kalabis.
Excerpt from KlasikaPLus CZ – a Czech review (which also published the above photograph) as translated into English:
Mahan Esfahani played Bach on a relatively new copy of Mietke's instrument from around 1710, coming from Hradec Kralove workshop Jan Bečička & Stanislav Hüttl & Petr Šefl. Stylish, rich, multifaceted, life, flawless; the extensive composition sounded like a musical stream remote from any formality or detachment. For Martinů and Kalabis, he chose another instrument – a more powerful, several decades-old, operational, modern Ammer brand, the so-called Bach model with a richer combination of registers. It allowed him to change colors. Especially for the distinct polyphonic watercolors, compositions from the 70s written for Zuzana Růžičková, such variety was desirable and the composition in minucius shades, in constant changes of sound contraption of hands and in distinguishing motives greatly helped. She gained on plasticity and attractiveness. The sonata of Bohuslav Martinů from the 1950s is smaller, neo-baroque, sounded at the beginning of the evening without a great pathos, as a kind attention.
===
Spain. June 7, 2018 –— recital at the Centro Cultural Las Clarisas de Elche, Valencia, Spain. Svetlana Tovstukha, cello and Eduard V. Agullo guitar, performed a program that included Viktor Kalabis's Reminiszenzen Op. 46 for guitar.
===
PRAGUE Prague: February 12, 2018. In a memorial performance for Zuzana Ruzickova, Mahan Esfahani and the Czech Radio under maestro Jiri Rozen, played (youTube) Viktor Kalabis's Concerto for Harpsichord and Orchestra .
Writing about this concerto, Martin Anderson noted the following in Fanfare: "Kalabis's Harpsichord Concerto, composed in 1974–75 (no prizes for guessing who the dedicatee and first performer was), has something of the buoyancy of the Poulenc Concert champêtre and the angularity of neo-Classical Stravinsky—but far more of a sense of onward drive than either composer; indeed, it's in the driving rhythms of the Finale that Kalabis comes closest to Martin? though, unsettlingly, it then subsides into anguished silence. R?ži?ková complained to her husband, only half-joking, that "You have let me die"; but the times in which it was written, he responded, did not permit another ending. Martin? was tangentially involved in the birth of the work, as R?ži?ková relates in her notes. She was performing the Martin? Concerto in Switzerland and the conductor asked if by chance she had heard of a Czech composer called Viktor Kalabis; much laughter ensued, and a commission soon after that. But don't expect some maudlin love-letter: Kalabis obviously wanted to show the world what she could do, and the solo part is a demanding one; the piece is almost half-an-hour in length, too, which must make it one of the world's longer harpsichord concertos."
& LONDON, UK: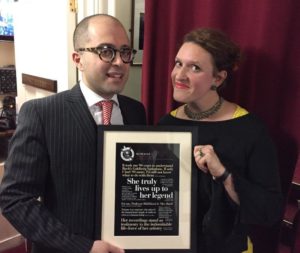 Following a concert at the Wigmore Hall by Mahan, he and Julia Vogl receive a special lifetime award to Zuzana from the UK Critics Circle, February 9, 2018.
===
PREMIERE IN JAPAN
Viktor Kalabis – Clarinet Sonata Performed by Nozomi Ueda
– In Osaka, Japan – May 18, 2017 at the Noix Accordées Music andArt Salon.
PRAGUE: Birthday Celebration – Zuzana is 90 – January 14, 2017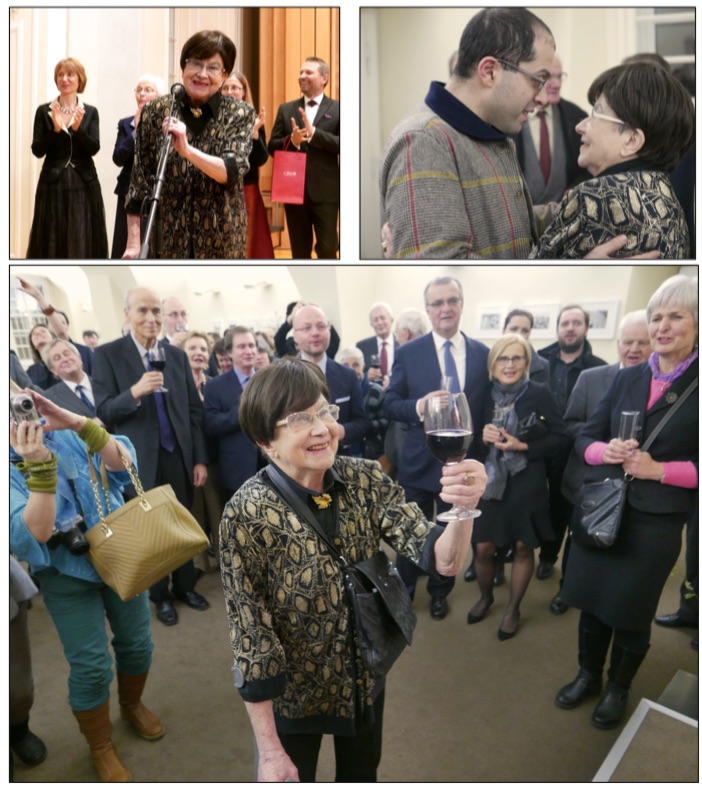 Sunday Feature  March 15, 2015:  The harpsichord is an often misunderstood instrument – sometimes dividing audiences. Harpsichord virtuoso Mahan Esfahani heads off on a personal journey to uncover the instrument's checkered history.  Listen to Zuzana Ruzickova in discussion with Mahan Esfahani on BBC Radio 3
===
TRIO DOMANČIĆ EPHSTEIN MINKIN PLAY CROATIA CONCERT
December, 2014 –  
played Kalabis's Four Images op. 73 for flute and harpsichord, and the Sonata for Violin and Harpsichord, Op. 28
flautist Ane Domančić, violinist Evgenije Ephstein and on the harpsichord Marine Minkin.

Listen and watch the Kalabis Trio 
The Kalabis Piano Trio Ondřej Lébr – violin, Lukáš Polák – violoncello, Miroslav Sekera – piano http://www.koncertniagentura.cz
The Kalabis Piano Trio Ondřej Lébr – violin, Lukáš Polák – violoncello, Miroslav Sekera – piano http://www.koncertniagentura.cz