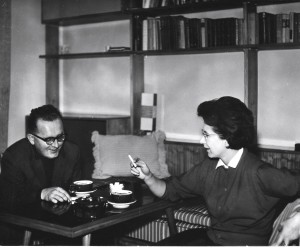 VIKTOR KALABIS
Viktor was born in the Bohemian town of Cerveny Kostelec in 1923 and came from a family steeped in musical tradition. His great-grandfather, Tomas Hruska of whom a portrait still exists, was a graduate of the Prague Conservatoire. He died in Prague in September 2006.
At the age of six Viktor was giving public piano performances. Hopes of studying music in Prague were dashed by the Nazi occupation, which forced him to become a factory worker.  He, nevertheless, found enough spare time  to conduct a choir, play as a pianist in a local trio and commute to Prague where he took lessons in composition with Jaroslav Ridky at the Academy of Music, and in conducting with Pavel Dedecek.
After the war, Viktor completed his studies at the Prague Conservatory (class of prof. Emil Hlobil) and inscribed at the Academy of Music and Charles University (philosophy and musicology). There he passed all the examinations but was denied his doctorate because his thesis on Bartok and Stravinski was not accepted, both being dubbed by the regime as "formalistic and decadent."
Only after the fall of communism in 1990 did he receive his doctorate in a rather poignant ceremony together with many other outstanding personalities in arts and sciences who had shared the same fate.
At the Academy of Music, Viktor met Zuzana Ruzickova. They were married in 1952. They both refused to join the Communist Party and faced many difficulties. Eventually, Viktor got work in the childrens' music section at Prague Radio.  It was in this post that he established the now internationally known "Concertino Praga" competition for young musicians.
He was also composing music, and in 1957 his Concert for violoncello op. 8 was taken up by Manuel Rosenthal and performed to  acclaim by the Orchestera de Paris at the Theatre de Champs Elysee.  Since then his music has been widely performed.  Many of his works were commissioned, for example, by the Czech Philharmony, the Dresden Philharmony, Camerata Zurich, Josef Suk, The Suk Trio, Janos Starker, M. Andre, The Prague Spring Festival and many others.
The Prague Spring of 1968 and the subsequent Russian occupation greatly influenced Viktor's music. The 3rd Symphony and the Sonata for violoncello were completed in 1970, the year he left Prague Radio to devote himself entirely to his music.
The 1989 "velvet revolution" saw Viktor being offered many top positions, but he decided to devote himself to his own music and to becoming the President of the Bohuslav Martinu Foundation. Here he established the Bohuslav Martinu Institute for studies and information, launched the Martinu Festival and competition, and created a dynamic base from which Martinu's work has become far better known.
Viktor suffered various illnesses in his final years, yet continued to maintain his active, sunny and optimistic nature. On his death on 28 September 2006, Dr. Hanser-Strecker, of the Schott´s Söhne Publishing houses in Mainz, commented in a letter: "I am most deeply troubled by this loss of a really great and important composer. He will continue living in his work and in our hearts."
ZUZANA RUZICKOVA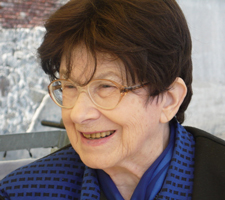 Zuzana Ruzickova is one of the world's leading harpsichordists. Her more than 65 recorded albums and thousands of public performances from the early 1950s to 2006 have won her legions of fans and thrilled audiences across the world. She was born in Pilsen, Czechoslovakia, in 1925, and has become a force for good music off the stage as a teacher and mentor to young students, as a director over many years at the Prague Spring Festival and as a leader in the overlapping stages of outstanding Czech musical performance and J.S. Bach. Zuzana is the winner of many honors in many countries for her performances and her recordings of Bach, and she often says that it has been his inspiration that has not only imbued every facet of her musical life, but the very spirit of her life as well. Zuzana had a wonderful marriage with Viktor that spanned more than 50 years.
She is a remarkable woman. She is warm and witty, speaks many languages and processes an inner spirit of courage and determination. In an interview with Ian Willoughby for Radio Prague, she offers us a glimpse into the horrors that befell her at the hands of the Nazis, from Terezin to Auschwitz, to slave labor in Germany where only clumps of grass saved her and her mother from starvation, to the death camp of Belsen.
Zuzana and her mother survived the war and returned to Czechoslovakia, but her burning desire to become a professional musician seemed doomed. She weighed just a few pounds and was acutely undernourished. At 19 years of age, she seemed too old to start studying for an eventual professional musical career. Yet, tremendous determination, the wonderful good fortune of meeting Viktor and her brilliant talent led her to win a major competition in Munich. From then onwards her international career was set, but the Czech Communist Party were not about to respect this non-Party member. The authorities did not allow her to teach Czech students, determined her travel schedules, withheld foreign earnings and never let her and Viktor forget for a moment that they were constantly being watched. Nevertheless, they could not stop her international climb to the zenith of harpsichord performances and international acclaim. Like Viktor, it was only with the collapse of communism that Zuzana really was granted the respect – as a professor and as a musical leader – in her home country that she so richly deserved.
In very recent times Zuzana has ceased to give public performances. However, she remains enormously active in Czech musical life, while at the same time promoting Viktor's music, developing the Foundation and, because of constant demands, talking in public about the Holocaust.
In December 2003 Zuzana Ruzickova received from Joel de Zorzi, French ambassador to the Czech Republic, the honour 'Chevalier de l'Ordre des Arts et des Lettres'.
Ambassador de Zorzi noted: This is a very special honor for harpsichordist Zuzana Ruzickova since she has always had a unique relationship with France. In this country, Ruzickova has written some of the best pages in her career as an early music performer, and the French audience has always acclaimed and supported her. As a harpsichordist, she has published many records with different French labels since she is one of the best performers of early music by French composers such as Rameau and Couperin.
The Ambassador added that at the moment, Zuzana Ruzickova is a professor at the Prague Academy of Music. She has given master classes in Prague, Zurich and at the Bach Akademie in Stuttgart. She has toured North America, Canada, Australia and Japan with her music and has received the 'Grand Prix du Disque de l'Acadamie Charles Cross' three times.
RECOGNITION
Titles:
1968 – Artist of Merit (CZ)
1989 – National  Artist (CZ)
Professor or the Academy of Music in Prague (CZ)
2004 – Chevalier des Arts et des Lettre (France)
Medals:
2004 – Medal of Merit 2. Grade for Arts and Culture of the President of the Czech Republic
1993 – Medaille für Kunst und Wissenschaft der Freistadt Hamburg
1997 – Medal for Contribution to "Golden Funds of Supraphone"
2001 – Medal of "Harmony" Musical Review
2001 -  Prize for Contribution to Czech and World Music
Prizes:
Grand Prix Charles Cros (J. A. Benda, J. S. bach)
Diapason d´Or (Henry Purcell)
Golden Disc Supraphone (300 000 LP´s, CD´s and tapes sold)
Honours:
Hon. Member: Direktorium "Neue Bachgesellschaft" Leipzig
NEMA (National Early Music Association of Great Britain)
The Dvorak Society for Czech Music
Honorary citizen of the town Jindrichuv Hradec (Czech Republic)
Honorary citizen of the township Praha 3