The Viktor Kalabis and Zuzana Růžičková Foundation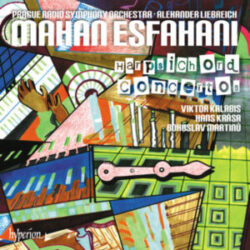 NEW RELEASE – February 3, 2023 – from Hyperion records – Mahan Esfahani
Martinů, Krása & Kalabis: Harpsichord Concertos
Prague Radio Symphony Orchestra, Alexander Liebreich (conductor)
CDA68397 – 034571283975
Wonderful reviews – The Guardian and Gramaphone
— See  NEWS.
========
    The Viktor Kalabis and Zuzana Růžičková Foundation, based in the United States, is dedicated to two remarkable people whose partnership played central roles at the heart of Czech music for more than 50 years. Living in Prague, Zuzana and Viktor refused to join the Communist Party and faced endless adversities, yet they achieved enormous international success.
==
Please visit our sister foundation in Prague to learn about its concerts and activities.
==
Clarinetist Lilian Lefebvre from France wins the 2022 Foundation's prize at the Prague Spring Music Festival Competition.
The 2021 winner, the Arete Quartet, performed Kalabis at the Prague Spring Music Festival.  — See  NEWS.
=======
            A superb performance – Viktor Kalabis's Canticum Canticorum – at the Cathedral of St. John the Divine, New York City.  Maestro Kent Tritle conducted the Musica Sacra Chorus and Orchestra, with contralto Nicole Joy Mitchell and tenor John Riesen.
         Maestro Tritle noted: "The Cathedral was packed for this performance. The Czech Consul General Arnošt Kareš eloquently set the stage with a heartfelt and inspiring oration before the performance. After the performance, a toast to the great Czech composer Kalabis was made in the massive Gothic space, and a sense of celebration was keen. The concert began with Prayer for Ukraine by Lysenko, and included works of Brahms, the Te Deum of Pärt and a world premiere by the composer Wang Jie.
         "Viktor Kalabis' Canticum Canticorum is a cantata in the great spiritual tradition of Bach and Buxtehude. A frequent feature of those earlier cantatas was dialogue between vocal soloists, often in the form of a duet. Another feature was the presence of the chorus, usually framing the cantata as bookends and set in a way that enhanced the musical architecture of the piece. Kalabis has done that with his Canticum Canticorum. In this case, highly dramatic writing for contralto and tenor soloists brings the highly evocative and sensual text to life. Music for chorus punctuates key moments in the through-composed drama, and keen orchestration highlights the emotional texture from beginning to end. Of special note is the incorporation of five heraldic trumpet fanfares, which also highlight the superb form of this masterwork."
=========
Viktor composed a number of pieces for Zuzana and none was more testing than one recorded for the film – Zuzana: Music Is Life – so enjoy this introduction by Zuzana to Viktor's CANONIC INVENTIONS.
We Appreciate Your Support!
Prague Spring International Music Competition Launches
Viktor Kalabis and Zuzana Růžičková Prize

A new annual prize will be awarded in its competition to be called: "The Viktor Kalabis and Zuzana Růžičková Prize."
Kalabis: The Complete Piano Works
Ivo Kahánek performs the very first complete recording of Viktor Kalabis's piano works, including his three sonatas.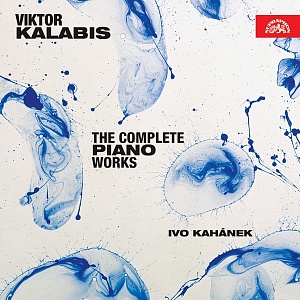 2022 Ruzickova Composition Competition
ADAWITCZYK.com moves ahead on 2022 competition honoring Zuzana.
Lilian Lefebvre Wins 2022 Prague Competition
French clarinetist Lilian Lefebvre wins 2022 Foundation prize at Prague Spring festival – Arete Quartet from South Korea won in 2021.