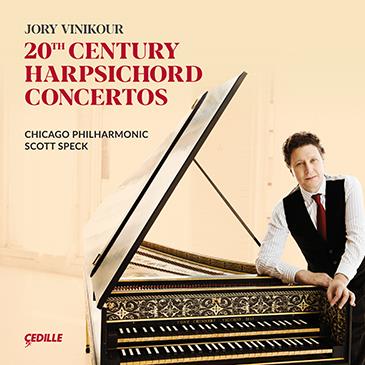 Vinikour Plays Magnificent 20th Century Harpsichord Concertos
For imaginative choice of repertoire married to sterling performances, this has got to be one of the outstanding discs of 2019. Yes, there are great 20th-century harpsichord concertos besides those of Poulenc, Martin, Falla, and Martinu. Jory Vinikour has chosen four. Let's get right to the music, which spans a 60+ year period, from the Walter Leigh Concertino of 1934 to Michael Nyman's virtuosic Concerto for Amplified Harpsichord and Strings of 1995. The Leigh is charming, busy, neoclassically English, and nine minutes of pure joy. Nyman's concerto is considerably more substantial and full of surprises. The various sections play continuously, organized around a central tango followed by a thrilling cadenza for the soloist that Vinikour plays marvelously.
This CD includes Kalabis Concerto for Harpsicord and Strings, Op. 42.
As harpsichordist Vinikour suggests: "..as each listener will find meaning unique to their own experience, it nevertheless seems possible to hear within the work a confrontation between opposing forces: the individual striving for means of personal expression against the forces of oppression and conformity."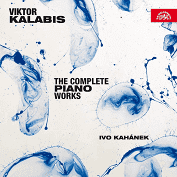 The very first complete recordings of Viktor Kalabis's piano concertos
with the pianist Ivo Kahánek
The very first complete recording of Viktor Kalabis's piano works – just as the previous album featuring his three sonatas (SU4210–2, Supraphon, 2018) – came to fruition owing to the initiative and keen enthusiasm of the world-renowned harpsichordist Zuzana Růžičková, the composer's wife and promoter of his music. A crucial role was played by the choice of the performer, a highly technically skilled pianist, possessing a deep insight into Kalabis's style.
The new recording album maps more than half a century of the composer's music, from his post-war Sonata No. 1 to brilliant miniatures dating from the very end of the millennium. Following the acclaimed album of Kalabis's sym­phonies and concertos (SU4109–2 – Choc de Classica, Gramophone Editor's Choice) and the mentioned CD of sonatas,
the present project opens yet another window into Kalabis's fas­cinating musical universe.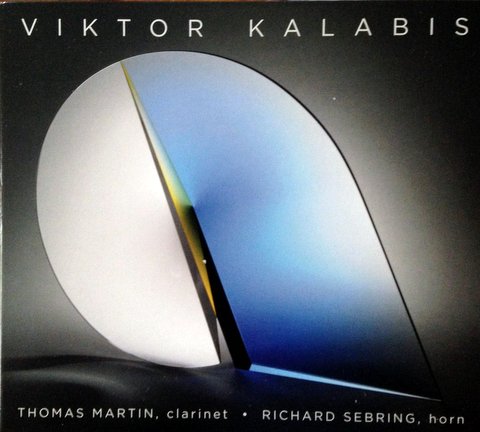 Kalabis – Music for Clarinet and Horn from Symnphony Hall, Boston.
Zuzana Rizickova writes: "Viktor Kalabis's love of wind instruments began when he was 15 years old. Already a performing pianist, he taught himself to play the saxophone and clarinet, his favorite wind instrument."
"When he visited Boston, Viktor was enchanted by the orchestra and also by Symphony Hall, its acoustics and form. 'Would that a work of mine could be played here,' I remember him wistfully sighing. So, special heartfelt thanks to Mark Ludwig and the wonderful performers of the Boston Symphony Orchestra (Tom Martin and Richard Sebring) for their great efforts in making this very special recording in Symphony Hall, thus fulfilling Viktor's wish, albeit, alas, posthumously!"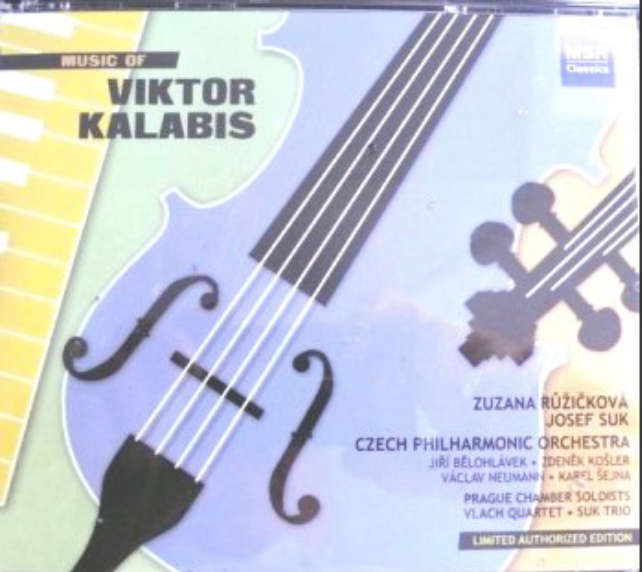 Box Set – Limited Authorized Edition – Executive Producer John Solum. MSR Classics Orchestral, Concerto, Ballet, Chamber & Solo
Review posted by Phil Muse in Symphony, chamber music, MSR
Czech composer Viktor Kalabis (1923-2006) was an unknown name to me when this 3-CD jewel box arrived in the mail. As I began scanning the Internet for basic research in writing this review, I was astonished to find that only two Kalabis works were listed on Arkivmusic.com, both buried in recordings of works by other composers.
Learn more about this recording on the Czech Music Direct Podcast, introducing the American label MSR Classics and featuring this 3 disc box set.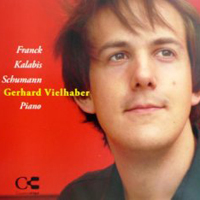 Gerhard Vielhaber
César Franck: Prélude, Choral & Fugue
Viktor Kalabis: Akcenty op. 26
Robert Schumann: Fantasie op. 17
Moving Clarinet
Viktor Kalabis took enormous joy in the clarinet and this comes through beautifully in this new CD from Premiere Music.
Irvin Venyš – clarinet
Martin Kasík – piano
Pieces by Josef Páleníček, Bohuslav Martinů, Miloslav Ištvan, Karel Husa and Viktor Kalabis.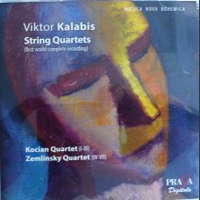 Complete String Quartets 1-7. Kocian Quartet, Zemlinsky Quartet
A tribute to Viktor Kalabis, one of the greatest Czech composers of the latter half of the 20th century, close friend of Jindřich Feld (1925-2007) and Marek Kopelent (b. 1932), who lived through both the German occupation and the communist era.
The musician admired French culture, adored Stravinsky' Russian and French periods and Bartok's values and felt at ease with the large symphonic and concerto forms. He also composed seven intimate Quartets from 1949 onwards, his last one in 1993.
His harpsichordist wife Zuzana Růžícková, who survived Terezin, led him into the work of Bach. He was also influenced by painters such as Marc Chagall and Ota Janeček, and he dedicated many years of his life to promoting the work of Martinů, and helped found the Martinů Institute.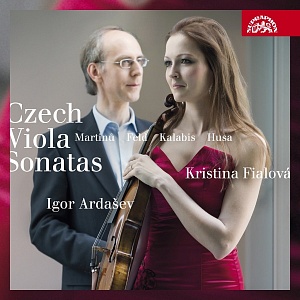 Martinů, Kalabis, Husa, Feld: Czech Viola Sonatas
Bohuslav Martinů (1890-1959) – Sonata for Viola and Piano, H 355; Karel Husa (b. 1921) – Suite for Viola and Piano, Op. 5; Viktor Kalabis (1923-2006) – Sonata for Viola and Piano, Op. 84*; Jindřich Feld (1925-2007) – Sonata for Viola and Piano*
Kristina Fialová: viola (Carlo Antonio Testore – Contrada 1745), Igor Ardašev: piano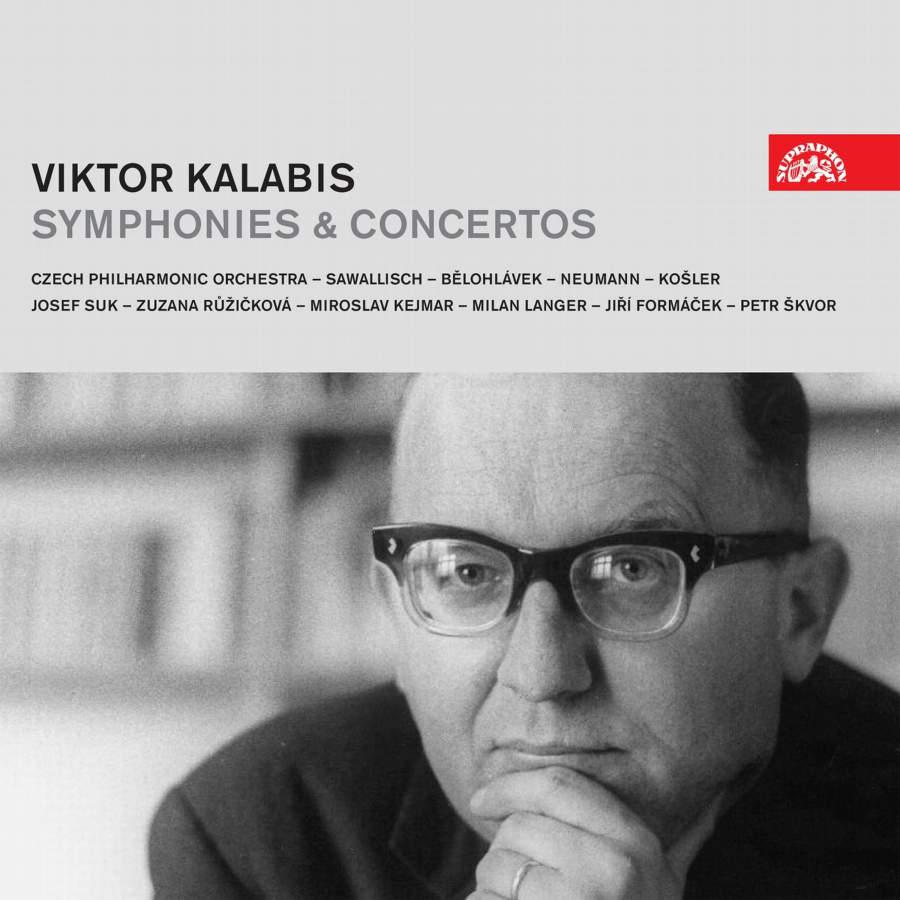 Kalabis: Symphonies & Concertos
Symphony No. 2 "Sinfonia pacis", Op 18; Symphony No. 3, Op. 33; Symphonic Variations, Op. 24; Concerto for Large Orchestra, Op. 25; Violin Concerto No. 1, Op. 17; Violin Concerto No. 2, Op. 49; Concerto for Harpsichord and Strings, Op. 42; Concerto for Piano and Wind Instruments, Op. 64; Concerto for Trumpet and Orchestra "Le tambour de villevieille", Op 36; Concertino for Bassoon and Wind Instruments, Op. 61
Josef Suk, Petr Škvor – violin, Zuzana Růžičková – harpsichord, Milan Langer – piano, Miroslav Kejmar – trumpet, Jiří Formáček – bassoon, Czech Philharmonic Orchestra / Wolfgang Sawallisch, Jiří Bělohlávek, Zdeněk Košler, Václav Neumann, Ladislav Slovák, Prague Symphony Orchestra, Prague Chamber Orchestra / Viktor Kalabis, Prague Radio Symphony Orchestra / Miloš Konvalinka, Tomáš Koutník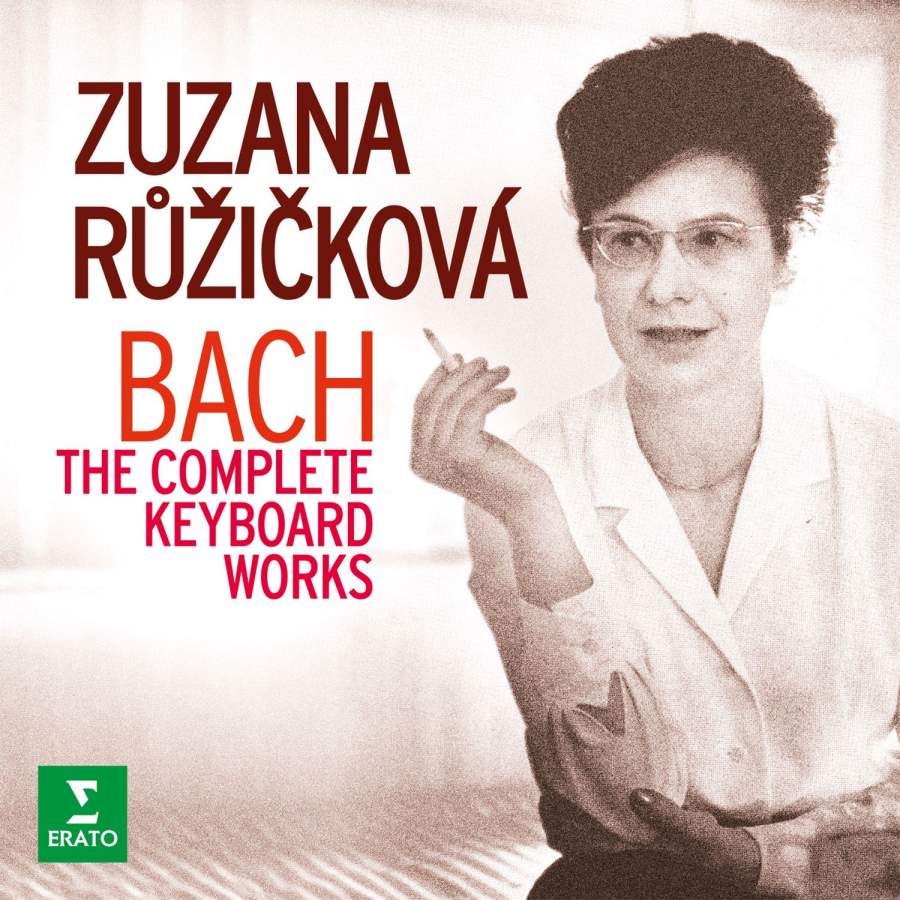 Bach: The Complete Keyboard Work
Release date: 21st October, 2016
20 CD box set 0190295930448
Zuzana Růžičková's Bach recordings were made for Erato between 1965 and 1975. In late 2016, just ahead of her 90th birthday, Erato/Warner Records released a remastered complete 20-CD box set. Zuzana was the first person in the world to record the complete works of Johann Sebastian Bach.  Now available on Amazon via Warner Music.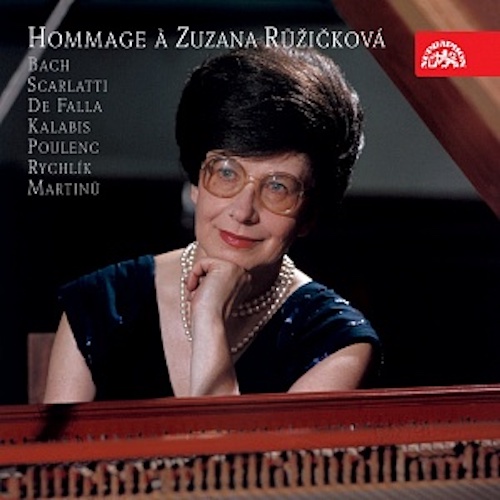 Hommage a Zuzana Ruzickova / Bach, Scarlatti, de Falla, Kalabis, Poulenc, Rychlik, Martinu
Suphraphon, celebrating the "First Lady of the Harpsichord", has released two new double sets of CDs.
Hommage a Zuzana Ruzickova / Bach, Scarlatti, de Falla, Kalabis, Poulenc, Rychlik, Martinu
Harpsichord Music from England, Spain and Portugal / Zuzana Ruzickova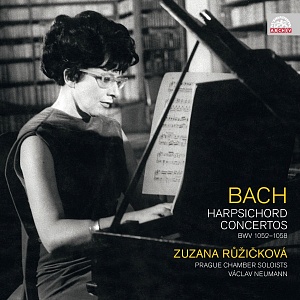 Bach: Harpsichord Concertos
Catalogue Number: SU 4222-2
Published: 21st April 2017
Genre: Classical
Format: 2 CD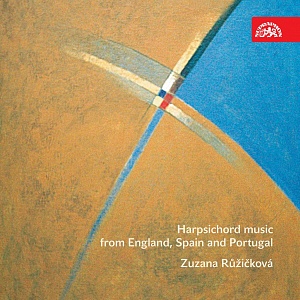 Harpsichord Music from England, Spain and Portugal
Catalogue Number: SU 4118-2
Published: 15th June 2012
Genre: Chamber Music
Format: 2 CD
Keyboard music of the 16th, 17th and 18th centuries from Spain and Portugal (Cabezón, Carvalho, Seixas, Soler) and England (Byrd, Bull, Croft, Morley, Dowland, Farnaby, Munday, Peerson, Richardson, Purcell)
To celebrate the 85th birthday of the "First Lady of the Harpsichord", Supraphon is once more returning to Zuzana Růžičková's extensive discography. Hot on the heels of the previousrelease (SU 4117-2), dedicated to Bach, Scarlatti and 20th-century works, this CD is focused on the very beginnings of the history of the harpsichord and the music intended for this instrument.The period spanning the 16th-18th centuries delimitates (disregarding modern music) the entire epoch of the harpsichord's pre-eminence. Juxtaposing the harpsichord repertoire from the Iberian Peninsula with that hailing from the British Isles gives rise to interesting comparisons. Spain and England had bitter long-term political tensions, yet when it comes to the beginnings of music for keyboards we can find strong similarities between the two countries, including the influence of the powerful organ and lute traditions. Zuzana Růžičková's supreme musicality makes these recordings more than a document; her accounts allow this precious music to dazzle in fine shades of colour and light. These sublime recordings are being released on CD for the very first time.