Mahan Esfahani's first concerto album for Hyperion is everything the listener could wish for: definitive performances of three marvelous—and unexpected—works by three of the last century's Czech masters – Bohuslav Martinů, Hans Krása, and Viktor Kalabis.
In an introduction to this new CD (release – February 2023), Mr. Esfahani writes: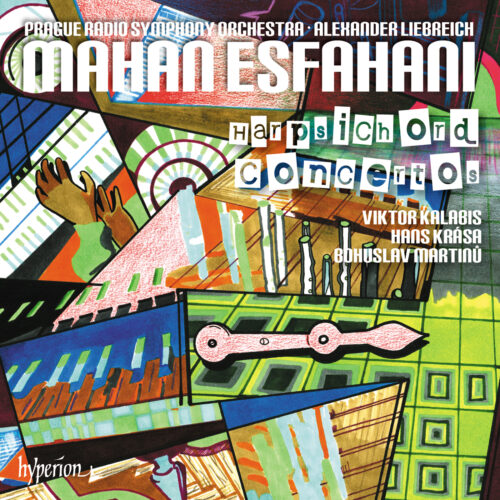 Of the three works on this recording—indeed, of all modern harpsichord works—Viktor Kalabis's 1975 Koncert pro cembalo a smyčcový orchestr, Op 42, is the most personal. It certainly has an intense personal connection for me—I was, after all, the last student of the work's dedicatee, who was herself the wife of the composer. But more to the point, this concerto, more than any other work by Kalabis, reflects the most personal, even ineffable qualities of his deeply romantic relationship with Zuzana Růžičková. As she herself told it, Viktor was the person who more than any other saved her from the trauma of the concentration camps (where she would have coincided briefly with Hans Krása in Auschwitz) by forcing her not only to speak about it, but to confront the nation of her tormentors by returning to Germany, where in 1956 she won the ARD competition in Munich and began an illustrious performing and recording career spanning five decades.
It is my true hope that this recording, particularly of Kalabis's concerto, will contribute to further interest outside the Czech Republic in his rather singularly expressive musical voice and its contribution to the history of twentieth-century music. In his sometimes inscrutable way, he is the great everyman of Czech music—one who wears his heart on his sleeve, a realist who nonetheless nurtures a cautious optimism that he reveals only to those closest to him, a gentleman of the old Central European school without the slightest bit of insincerity, a man who looks squarely into the eyes of his fellow humans and treats them as his social and intellectual equals. I have lived among the Czechs for seven years and, while I don't always fully understand their cultural and social idiosyncrasies, I think this composer to be the very personification of a little nation that has always, culturally speaking, punched well above its weight. Viktor Kalabis is, in a word, the best of what it means to be Czech.
Read the reviews: The Guardian and Gramaphone